Travel and Outdoor Equipment Price Comparison > DMR Comp Front Wheel 26"
DMR Comp Front Wheel 26"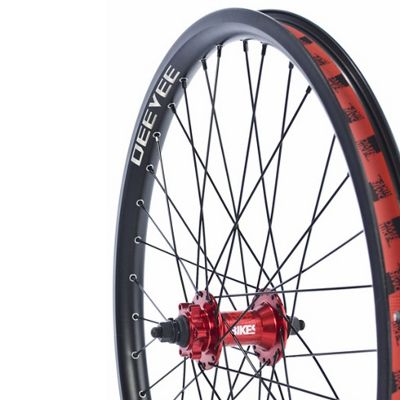 DMR 26" Comp Front WheelDMR has been designing and creating some of the best Mountain Bikes and Components for nearly 20 years. Our team of designers continue to work with the sport's biggest names to create products that will endure the riding we all know, do, and love. Upgrade your ride with DMR wheels and spares Hub Features: 9mm Quick Release 6 Bolt Disc 36 Hole Cup and Cone Bearings Rim Features: 32mm wide, these rims are big & stable even with the biggest of tyres Double wall section & single eyeleted for incredible strength The rim has a D section giving it good radial strength for dirt jumping, BSX, street riding and free ride applications Light in weight and super strong Combined Weight: Weight: 1310gBuy DMR Wheels from Chain Reaction Cycles, the World's Largest Online Bike Store.
Alternative Shops
Image
(Click to enlarge)
Product
Price
Buy from...
Prices and availability are correct at the time of publishing, but advertisers may change the details before we have time to update them.
DMR Comp Front Wheel 26" Reviews