Travel and Outdoor Equipment Price Comparison > Chain Reaction Cycles Complete Bike & Wheel Bags - CRC Logo
Chain Reaction Cycles Complete Bike & Wheel Bags - CRC Logo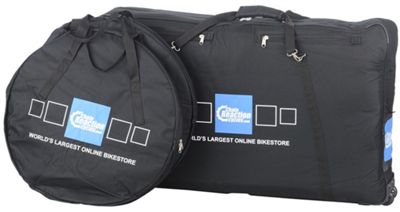 Chain Reaction Cycles Complete Bike & Wheel Bags - CRC Logo

Chain Reaction Cycles Complete Bike & Wheel Bags - CRC LogoThe Chain Reaction Cycles Complete Bike Bag is perfect for keeping your beloved bike safe in the hands of airport staff Secure fit with Plenty of Storage SpaceThis padded bag features 8 separate internal compartments to allow for safely stowing clothes, pedals, seat, seatpost and other items separately and safely away from the bike eliminating the chance of loose components rattling around inside the bag. A tool roll has also been included for safe storage of your essential spanners, Allen keys and screwdrivers. The padded shoulder strap is attached to the bag by metal QR clips, which are secured into metal eyelets on the main bag for added security Durable and Easy to TransportThe dual roller wheels on the base of the bag ensure that your Bike Bag is really easy to transport. The bag features four horizontal zippers at the top of the bag (2 on either side) allowing it to be safely hung on a bike rack for easy transportation. The Wheel Bags have been manufactured from the same heavy-duty material as the main bike bag; these can be used independently with the included shoulder straps or stowed inside the bike bag. The interior of the wheel bags feature a separate compartment for storing QR skewers, 2 heavy-duty PVC discs have also been placed in the centre of the bags to eliminate any chance of axle/wheel nuts piercing the exterior of the bag Main Bag Features:Chain Reaction Cycles LogosLarge capacity bike bagHeavy duty padded rip stop exteriorDual Roller wheels on the base of the bag8 separate internal zipped storage compartmentsPadded shoulder strap with metal QR clipsHeavy duty zipperSeparate tool rollCan be hung on a bike rack through the horizontal zipped pocketsHigh quality carry handlesWeight: 6.7kgWheel Bag Features:Separate compartment for QRs and axlesHeavy duty PVC discs to prevent axle protrudingHigh quality shoulder strapsChain Reaction Cycles LogoZip closureFits all wheels up to 700c (including 29er)Dimensions: Unfolded - 1250 x 800 x 220mm; Folded - 1250 x 320 x 220mmBuy Chain Reaction Cycles Accessories from Chain Reaction Cycles, the World's Largest Online Bike Store.
Alternative Shops
Image
(Click to enlarge)
Product
Price
Buy from...
Prices and availability are correct at the time of publishing, but advertisers may change the details before we have time to update them.
Videos for "Chain Reaction Cycles Complete Bike & Wheel Bags - CRC Logo"
Chain Reaction Cycles Complete Bike & Wheel Bags - CRC Logo Reviews